"TERMITE TUBES AROUND THE OUTSIDE BASE OF YOUR HOME… NOT GOOD!"
I started seeing little mud trails or tunnels around the cement foundation of my home. I had no idea they were termites. When I found out they were, I also found out the havoc they were wreaking in the residence. They thoroughly inspected our home and luckily nothing major had to be done structurally. Termites were eradicated!
Gary Olsen
Johnson Ranch, San Tan Valley, AZ
I found termites and asked my neighbor what I should do and he recommended me to call his friend at Legacy Pest Control. The right termite solution for our situation with an awesome warranty.
Marci Wheeler
Power Ranch, Gilbert, Az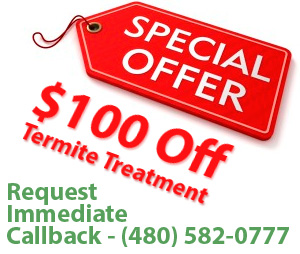 Tip: When purchasing an Arizona home, have a licensed pest inspector check out the home for termites, during your buyer's inspection period. A good idea: have your home regularly checked for termites.
ARIZONA IS A HOT BED FOR TERMITES… THE JOKE IS THERE ARE TWO HOMES IN PHOENIX, ONE THAT HAS TERMITES AND THE ONE THAT IS GOING TO GET THEM…
Termites are almost as bad as ants. They are everywhere. Though they are preventable it is important to know what to look for and know who is licensed to treat for termites. If someone says they can help and they are not licensed DON'T plan on having any warranties.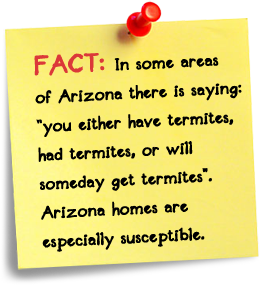 Termite Inspection- visually inspect readily accessible areas of the home for evidence of wood-destroying insects (WDI) and wood-destroying organisms (WDO). Visually inspect entire interior of the home and exterior of your property
Findings are all documented
Inspection times: 30-45 min for a thorough inspection
Drilling, digging, trenching the soil, chemical injection
Termite Colony Elimination
Baiting Systems
Pre-treat on new or remodel construction (long term protection)
Termite control for existing structures
Warranty and extended warranty options
Semi-Annual and Annual inspections